Huffpo gunning for Pulitzer in T&A
When are people going to get serious about Huffpo's unseriousness?
Every day brings another round of accolades for Huffpo's contributions to journalism. Maybe a Pulitzer, pant pant.
But beneath the skin (of buxom beauties) on Huffpo, there's less beef than many (and Huffpo's PR machine) give Huffpo credit for.
Take this post titled "Huffington Post Traffic Blows Past LA Times, Washington Post" from the Silicon Valley Insider, for example:

The Huffington Post has now blown past the sites of both the LA Times and the Washington Post, says Compete.com.

Huffington Post had 8.4 million uniques in September, up from 7 million in August. The LA Times site had 8.3 million uniques in September, versus 8.2 in August. The Washington Post took the hardest fall, going to 8.1 million uniques in September from 9.3 million in August.
The post ends by asking "What was that Mayor Michael Bloomberg was just saying about how print publications aren't writing stuff people want to read?"
Read?
Maybe if the LA Times and Washington Post included lots of "content" like "Shauna Sand's SEX TAPE: Lorenzo Lamas' Ex's Explicit VIDEO ONLINE" and "The 10 Creepiest Unintentionally-Sexual Ads Of All Time (VIDEO PHOTOS)" and "January Jones Drinks Beer, Dons Leather, Says Ex-Boyfriend Ashton Thought She'd Fail" their readership (or viewership) would be higher.
And BTW, those happen to be posts 2, 3 and 4 on Huffpo's list of most popular stories today.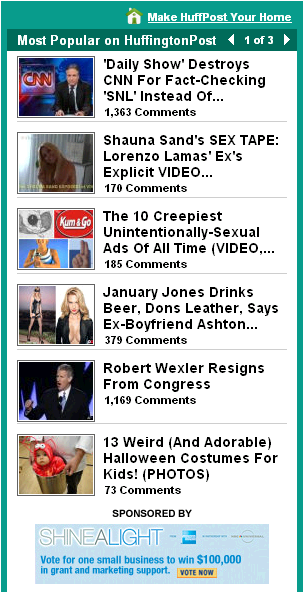 And here's another recent set of Huffpo's stunning contributions to journalism. As folks used to say about Playboy, no doubt lots of people read Huffpo "for the stories."
Pulitzer, anyone?