Adverposts: advertising outside the box
We're introducing two new ad units — one is a large adverpost with 400X400 image plus up to 1000 characters of text and links and the second is 200 X400 pixels plus 500 characters of text. Here's a 90 second video intro:
When we started Blogads back in 2002, industry players thought we were crazy. Who would advertise on blogs, the online equivalent of a 16-year-old's diary?
We added insult to injury by conjuring up a new ad unit, the blogad, a small blog-post-like combination of image and text that would run in a narrow column beside blog posts.
Well, media mavens have long since realized that blogs are huge, often bigger than newspapers in traffic and impact. AND advertisers increasingly are realizing that standard IAB units are, too often, invisible cliches.
Advertising RFPs constantly implore publishers to "think outside the box." Well, if you want to think outside the box, you need to at least escape the 728×90 pixel box everybody else is storing their brains in. So here's a new box.
The second blog post in the Wonkette screenshot below this paragraph illustrates the smaller "classic" adverpost, which combines an image that's 200×400 with up to 500 characters of text. (In the real version, the text is regular HTML, ready for copy/paste or lots of clickable links.)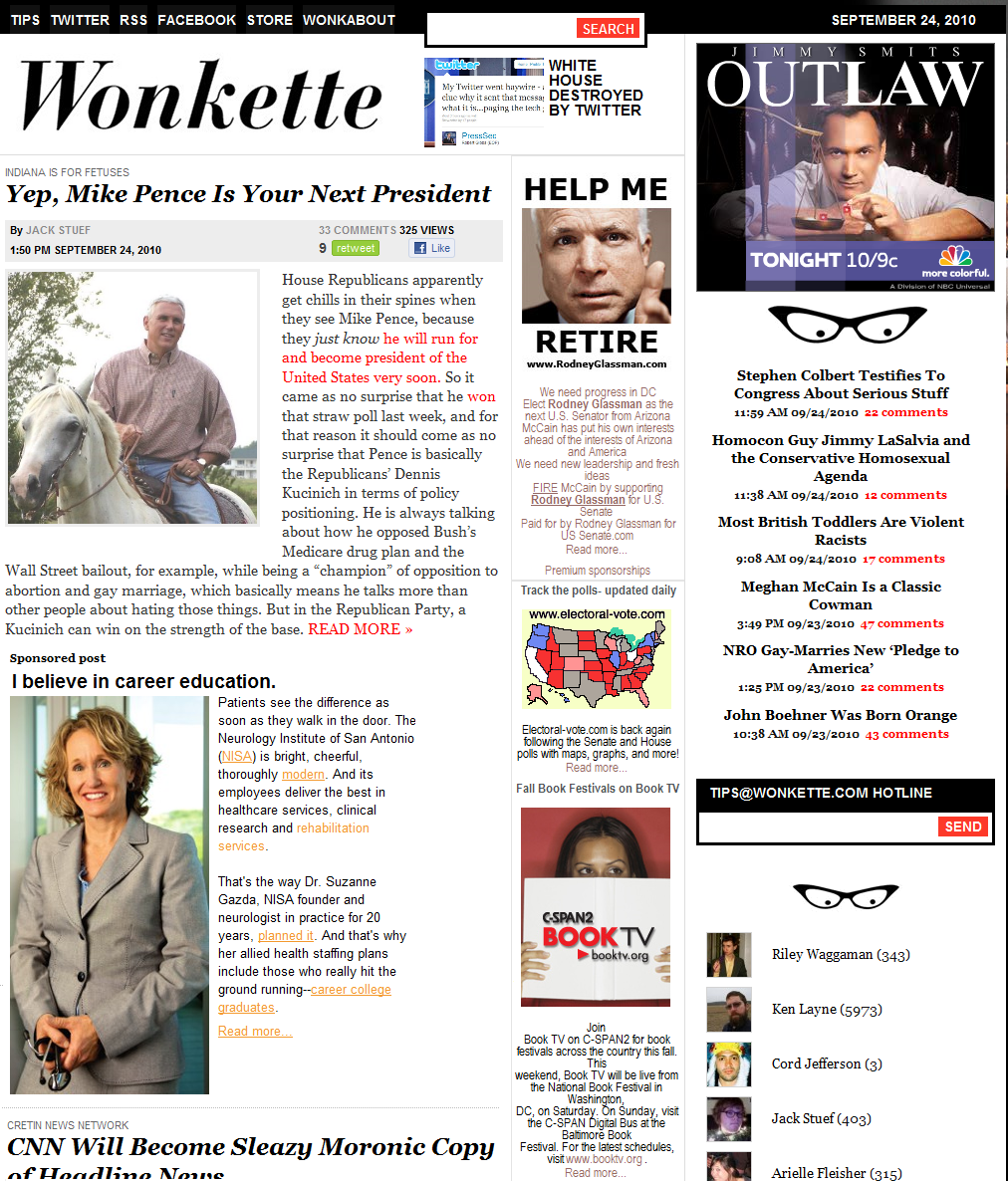 Hence the two new units. The adverpost is a concept honed over the years on Steve Hall's Adrants. We hope that by making adverposts available to advertisers on hundreds of blogs, the ad unit evolve further and help advertisers better connect with influential blog communities.
Long-time blog advertiser PETA is helping us kick the Adverpost offering on a few blogs. (We're also adding some IAB units so that advertisers who want to buy those units on our 3500 blogs can more easily do so.)
Amid a Gobi-sized desert of generic media mediocrity, blogs offer both readers and advertisers something special: a gathering of humans. For advertisers looking to tell a story and connect with influential people — as opposed to just getting clicks from random consumers — there's nothing better.
BTW, if you don't get the allusions in the video, here's more on unicorns, Powerthirst, Double rainbows, men in towels, and Chatroulette.
Update: An early adopter of the Adverpost reports that he's made a 2.85-fold return on his ad buy AND that clickers on the Adverpost spend seven times more time on his site than clickers from other ads.
Update: Adverposts can now include video!
Tags: Homepage