The Ad Warehouse: Where Ads Live On as Content
In his essay, "It Will Shock You How Much It Never Happened," Chuck Klosterman says this about our relationship with TV advertising:
We've become the ideal audience for advertising—consumers who intellectually magnify commercials in order to make them more trenchant and clever than they actually are. Our fluency with the language and motives of the advertiser induces us to create new, better meanings for whatever they show us. We do most of the work for them.
Somehow this relationship has not been as amicable when it comes to online ads. We block banners with browser plugins, get annoyed by half-page auto-expanders, and poke fun at contextual ads. Commercials get extra life on YouTube, TV specials and dedicated praise sites, while online ads appear today, and drift off into pixelated oblivion tomorrow. Until now.
We couldn't help but notice a new trend of online ad warehouses. From Facebook's ad testing ground, to what is essentially a rest home for banners that treat online executions with the same sort of dignity as their television counterparts, here's our roundup: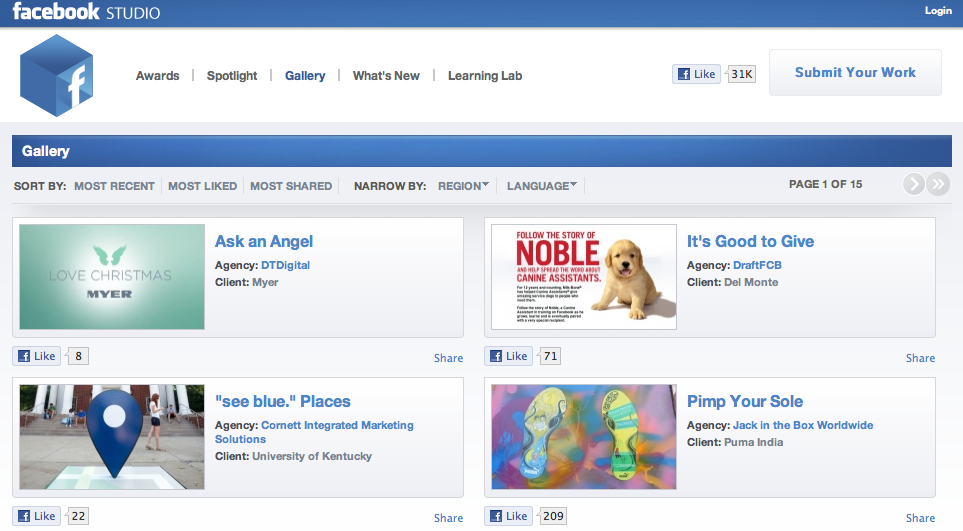 In a move that garnered mixed reviews from the ad world, Facebook stepped into the online advertising arena last month, with a site that houses ad creative, case studies and awards. It's integrated with Facebook Connect, allowing users to "vote" on their favorite creative by "liking" it. It seems like a site that would only be popular with industry types but with 31k "likes" for the site itself, you've gotta think it's being used by non-ad people, too.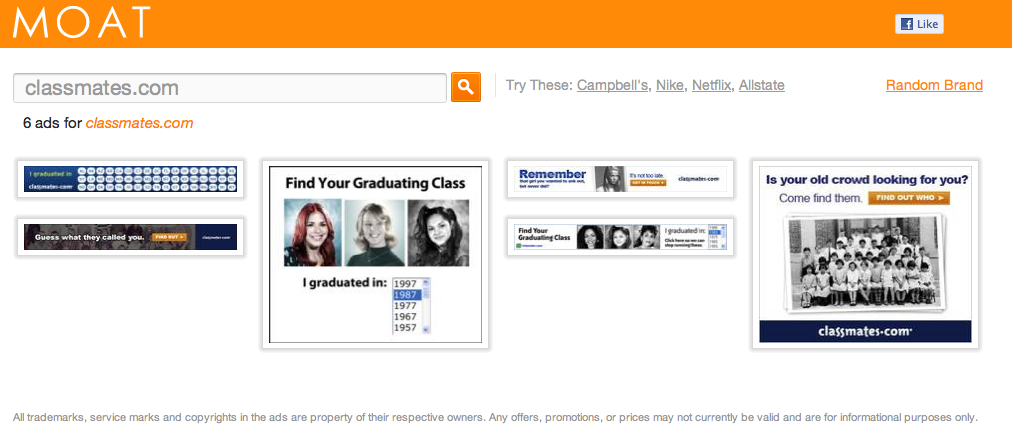 Whether asking you to toss a banana to a monkey or identify a celebrity from her high school yearbook picture, banner ads have been around since the beginning of the web. Casual internet users don't know how long ads are set to run for, and many of these units are served by remnant networks, so it's hard to go back and find your favorite. Moat Ad Search gives these ads a place to live on. From the banal to the entertaining, chances are you'll find your favorites here.

Ah, the takeover execution. What better way to put your brand out there than to snag every available ad zone on a site, including a nice skin in the background? Every day, adtakeover.com rounds up and links to takeovers from around the web. Unlike Facebook Studio and Moat, the creative doesn't live on here, but it is certainly given the credit and attention on the day that matters most.
Of course, we've been showcasing and extending the lifespan of great ads for years. It's encouraging to see it happen on this scale.
Are your favorite ads living their golden years on these sites?
Tags: ad storage, ad warehouse, Homepage