by
Nick Faber
Tuesday, May 3rd, 2011
In his essay, "It Will Shock You How Much It Never Happened," Chuck Klosterman says this about our relationship with TV advertising:
We've become the ideal audience for advertising—consumers who intellectually magnify commercials in order to make them more trenchant and clever than they actually are. Our fluency with the language and motives of the advertiser induces us to create new, better meanings for whatever they show us. We do most of the work for them.
Somehow this relationship has not been as amicable when it comes to online ads. We block banners with browser plugins, get annoyed by half-page auto-expanders, and poke fun at contextual ads. Commercials get extra life on YouTube, TV specials and dedicated praise sites, while online ads appear today, and drift off into pixelated oblivion tomorrow. Until now.
We couldn't help but notice a new trend of online ad warehouses. From Facebook's ad testing ground, to what is essentially a rest home for banners that treat online executions with the same sort of dignity as their television counterparts, here's our roundup: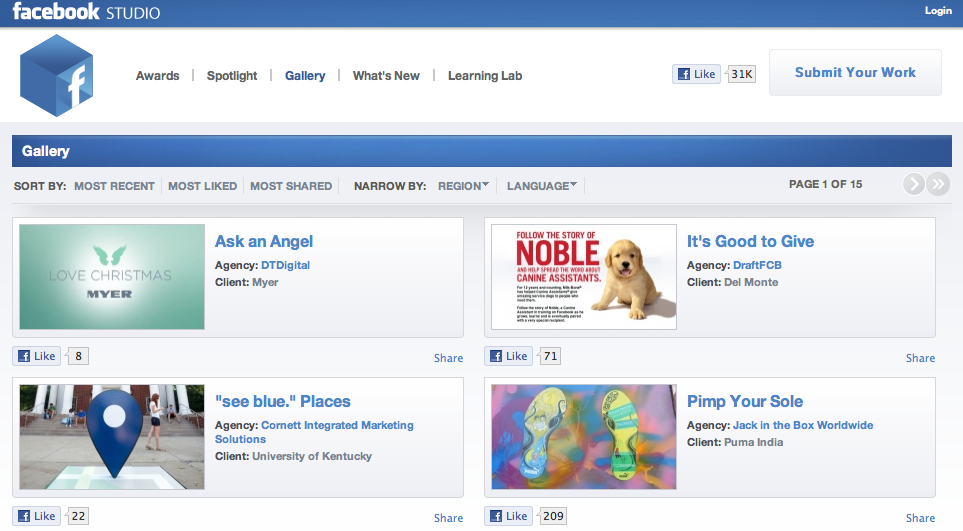 In a move that garnered mixed reviews from the ad world, Facebook stepped into the online advertising arena last month, with a site that houses ad creative, case studies and awards. It's integrated with Facebook Connect, allowing users to "vote" on their favorite creative by "liking" it. It seems like a site that would only be popular with industry types but with 31k "likes" for the site itself, you've gotta think it's being used by non-ad people, too. (more…)