by
Nick Faber
Tuesday, April 12th, 2011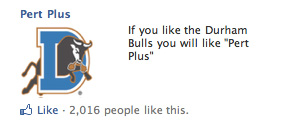 About three weeks ago, I noticed a Facebook ad that used the logo of our local AAA baseball team, the Durham Bulls. It said, "If you like the Durham Bulls you will like 'Pert Plus.'"
My reaction to this ad was, "Um…. why?"
I took a screen shot, sent out a couple snarky tweets and forgot about it. Until today.
With the Bull's opening game this Thursday, the missing piece of Pert's puzzle clicked into place today: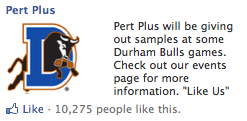 Whether or not Pert's marketeers intended to confuse fans with the first ad, it's clear they got me thinking about the brand. And starting Thursday, they'll be able to find me where I let my hair down.